Vista Brenthill - LOCATION
Vista Brenthill is Located in 9 Yangco Road, Baguio City.
Vista Land will be adding to Baguio City with a new prime residential enclave the Vista Brenthill Baguio.  New views await you at Vista Brent Hill Baguio, the newest Vista Land development. Situated in 9 Yangco Road, Baguio City, Vista Brenthill Baguio is a exclusive residential and leisure enclave where the highly regarded Brent International School is also situated. Vista Brent Hill Baguio gives a new view on premier condo living. Vista Brenthill Baguio is a short walk from the city's premier retail and entertainment hub and mall - giving residents an endless array of facilities and amenities for shopping. 
The location is one of the primary features of the Vista Brenthill development by Vista Residences in Baguio. It promises to provide an elite lifestyle to its future residents by providing all the basic amenities they need within the compound. However, the location is one of the primary selling points for this development project. This new residential enclave is going to be the prime address in Baguio City in the years to come.
The specific address for Vista Brenthill is in 9 Yangco Road, Baguio City. Therefore, it is close to the major roads and highways of Baguio for easy accessibility to and from the condominium. In fact, some of the major landmarks of Baguio City are within walking distance from this condominium. If you want to enjoy other leisure or business amenities, you won't have to take your car out anymore. You can simply walk to your destination and be able to enjoy the natural breeze of the fresh air in Baguio.
If you are looking to indulge in some leisure opportunities or visit places of interest in Baguio, you won't have to travel far from Vista Brenthill. Burnham Park, which is one of the most popular tourist attractions in Baguio City, is less than 2 kilometers away from this condominium. Other popular tourist destinations such as Camp John Hay, Wright Park, Botanical Garden, Mines View Park, and The Mansion are within 2-3 kilometers from this condominium. It shouldn't take you more than 15 minutes to get to these destinations, especially since Baguio City isn't a traffic-congested city.
If you need to do some shopping or buy grocery for the week, SM City Baguio is less than 2 kilometers away from Vista Brenthill. Therefore, running errands and doing your grocery would prove to be hassle-free with its location. For the students who are looking to find a home in Vista Brenthill in Baguio, you can make your travel to and from your school hassle-free due to the convenience of its accessibility. Some of the schools located nearby are Philippine Women's University, Brent International School, University of Baguio, University of the Philippines, and the St. Louis University.
For your medical and health care needs, there is no need to travel for to enjoy the services you need. Baguio's top medical and health centers are within a few minutes' ride from the Vista Brenthill Baguio condominium. For example, St. Louis Hospital of Sacred Heart, Baguio Medical Center, and the Notre Dame Charles Hospital are within the 2-kilometer radius of this condominium. Meanwhile, there are also several nearby churches available at this area. Pink Sisters and the Baguio Cathedral are within 1-kilometer from this condominium.
On top of the accessibility and convenience of its location, Vista Brenthill sits on a quiet and naturally preserved environment. Despite the luxurious and modern amenities of this vertical development project, the developers aimed for residents to fully enjoy the natural beauty of Baguio. This area where the development was built on was chosen since it is a bit far from the main part of the city. Hence, you can enjoy the fresh air without the pollution.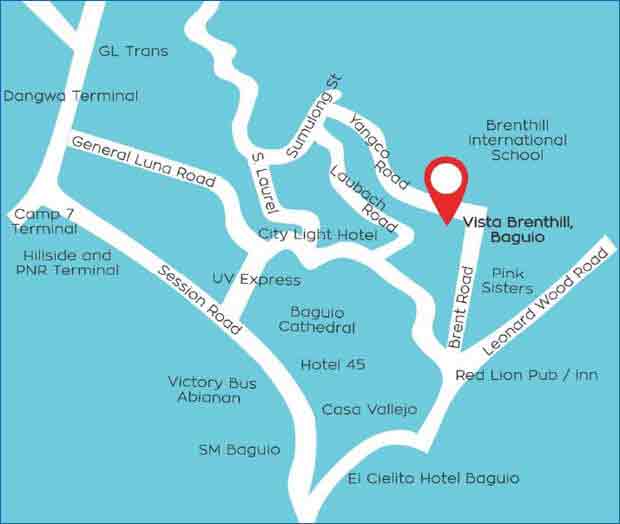 The Vista Brenthill is not your typical condo in Baguio City. It is more of a customized vacation house that is more focused on the welfare of students and families in terms of improved amenities and facilities to address their respective needs. Vista Brenthill is also situated in a secluded location but is near enough from schools, unlike conventional condos in Baguio City which are located at the center of the city. These condos are usually surrounded by noisy neighbors and cars fuming with carbon dioxide. While in the serenity and tranquility of Vista Brenthill, you will find the real condo in Baguio City.